Alicia Mary Retes, Storytelling Artisan and Educator
"POWERFUL AND HILARIOUS!"
Tim Tingle, Oklahoma Choctaw, award-winning author and national storyteller.
Thanks for stopping by. Enjoy my site.
In her expressive telling, tricksters become lively interesting, funny characters, who embody a range of human emotions and reactions while providing opportunities to transform preconceived ideas and unite audiences in laughter.
Fully embracing the unique personality, body, movement and spirit of each of her characters, Alicia is especially fond of retelling Indigenous stories from her travels to honor the original inhabitants and their land.
She incorporates music, including songs of her own composition in English, Spanish, and various Indigenous languages, along with ethnic instruments (like the didjeridu taught her by the Aboriginal Australian Tjapukai people). Some performances include her handcrafted, 7-foot cornhusk puppets as well.
Alicia has shared her work at various Indigenous California gatherings including the Coast Miwok Big Time Celebrations at Kule Loklo, Point Reyes National Seashore, and the Siakumne Tribe and 4 Element Earth Education at the Salmon and Bear Celebrations at Burton Educational Preserve, Nevada County. For over 10 years, Alicia engaged thousands of students learning about the Miwoks and other Native American Indian cultural ways. She is the former teacher and education director at the Museum of the American Indain, Miwok Park Novato, California.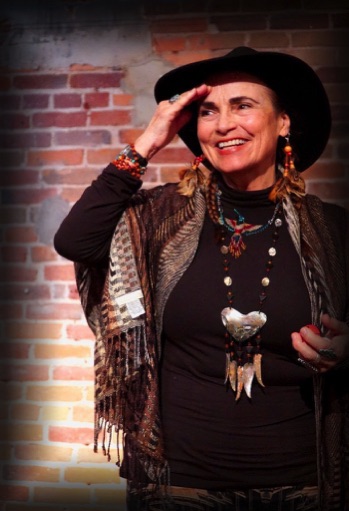 Alicia studies her own heritage of Yoreme (Mayo) and Yoeme (Yaqui). Her most recent piece, "Two Bears, Woi Hooso, Dos Osos," adds a twist of fate to the traditional Yoemem "Two Bears" legend of love, betrayal and redemption. In 2021 she told her version of the story at the Tejas Storytelling Conference, "When Home is Two Nations," with Tim Tingle, Oklahoma Choctaw teller and author, the Silicon Shakespeare Summer Festival "Folktales from Around the World," and Indigenous People's Day at Dominican University in San Rafael.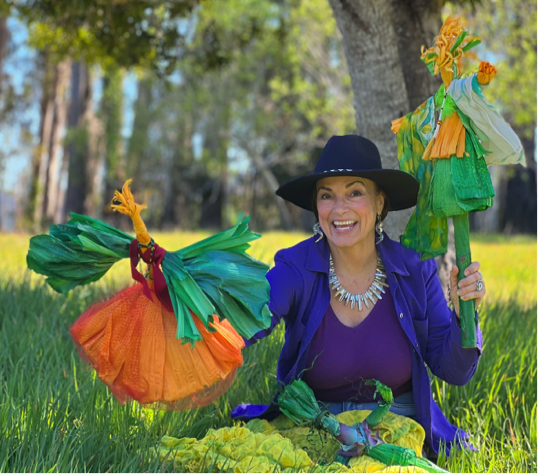 Over 20 Years Presenting Entertaining and Educational Programs
of Natural History and Indigenous Cultural Narratives.
In 2022, The San Geronimo Valley Community Center (SGVCC), California sponsored Alicia's lively exhibit of colorful corn leaf sculptured dolls. 100 scuplptures were on display. They range from 6-inch finger puppets to an 8- foot earth mound replicating "The Three Sisters"- an ancient Indigenous story about three plant people Corn, Bean and Squash. Lagunitas School District Students K-8 enjoyed learning to craft corn dolls and listening to short stories. Alicia also performed at SGVCC's Annual International Peace Festival.
Alicia and "the girls" traveled to the Sonoma County Community Center for another month long residence performing stories and teaching cultural connections. Students crafted dolls, feasted on plant-based meals and wrote and performed short stories. Alicia returns in November to perform "The Three Sisters" to the larger Sonoma community residents at the Annual Multi-Fenerational Festival.
As a storytelling artisan, educator and certified interpretive tour guide for over 20 years, Alicia continues to promote a deeper understanding of our relationships with the natural world, people and the diversity of Indigenous cultural perspectives. She has spun family friendly stories on a variety of stages from boat decks, rocky shorelines, meadows and mountains to libraries, school classrooms, museums, tea temples and storytelling festivals throughout California.
Her affiliations include Miwok Archeological Preserve of Marin, the Marin American Indian Alliance, National Storytelling Network, Storytelling Association of California, National Association of Interpreters, Sierra Foothill Storytelling Guild, Texas Doc More Guild, Delta Weavers of San Francisco East Bay and Artist Standing Strong Together.
STORYTELLING ARTISAN-IN-RESIDENCE
Companion Plant Stories and Corn Leaf Sculptures Workshops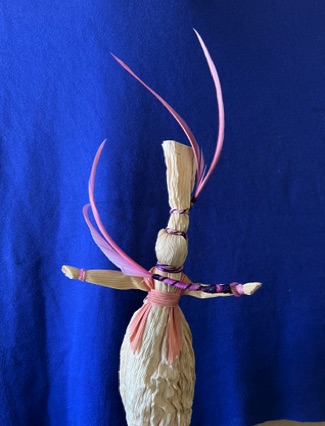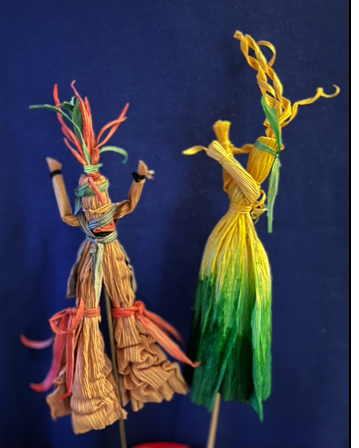 Born and raised in San Diego California, Alicia spent her summers in Huatabampo, Sonora, Mexico, a Yoreme (Mayo) ceremonial town. She also traveled the family yellow Dodge Dart Station Wagon camping along the West Coast and across the US to national, state and parks. As an adult, she has lived, traveled and explored the ecosystems and Native cultural arts in California, Mexico, Hawaii, Panama and Australia.
Growing up in a bi-lingual, Mexican-American household sparked her fascination with cultural diversity and natural history. For over a year, Alicia lived in a deserted Hawaiian fishing villages spearing fish and lobsters to eat. She traded her catch for tropical fruits and fresh water with a Hawaiian fisherman who came once a month. He would pull his outrigger canoe onto the black sand beach to offload the precious cargo. Quite often they shared his homemade poi together.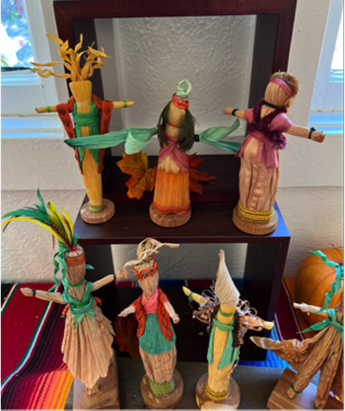 Land Acknowledgement
I gratefully reside in the unceded sovereign lands of the Coast Miwok in what is known today as Marin County. Despite the cultural genocide through missionization by the Spanish and the piracy tactics of the English, they are still here and have been here since time immemorial. They remain dedicated to upholding and renewing the traditional customs and practices of their ancestors.
I eycourage you ton learn more about the Coast Miwok Tribal Council of Marin and how to support their current and future projects. Please visit www.coastmiwokofmarin.org
Check out their Youtube video sponsored by the San Geronimo Valley Planning Group Members https://www.youtube.com/watch?v=BGSTnJmAhqQ
Coast Miwok Teritory also includes Southern Sonoma County. Learn more about the The Federated Indians of Granton Rancheriaat. Please visit https://gratonrancheria.com/
Throughout the Americas, the Indigenous Tribal Nations have maintained a deep understanding and traditional knowledge of North Americas ecosystems and landscapes that allowed them to thrive for thousands of years long before western contact.
They thrived and managed an abundance of natural resources across the Americas. Despite years of brutal, oppressive colonial pressure and genocide that continues today, they are still here. This is true for the unceded lands of Coast Miwok in Marin County where I reside and the unceded lands of the Yoeme (Yaqui) of Sonora, Mexico and of whom I am descended.
Indigenous People and their ancient traditional knowledge are a vital part of our present and future lives on the Earth. We must heed their call to protect all water resources and ecosystems now and for future generations. After all, we are all humans living on the same Mother Earth.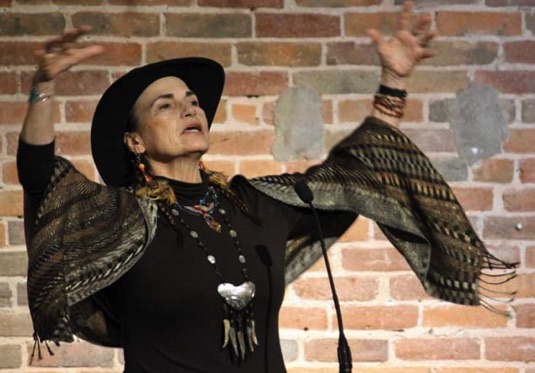 Alicia thrives on exploring Trickster/Shape-Shifter stories like those of Coyote Raven, Rabbit and Frog.
Photo by Alicia M. Retes
Hearts Desire Beach 2014 Tule Boat Building with Charles Kenard and Sky Road Web.